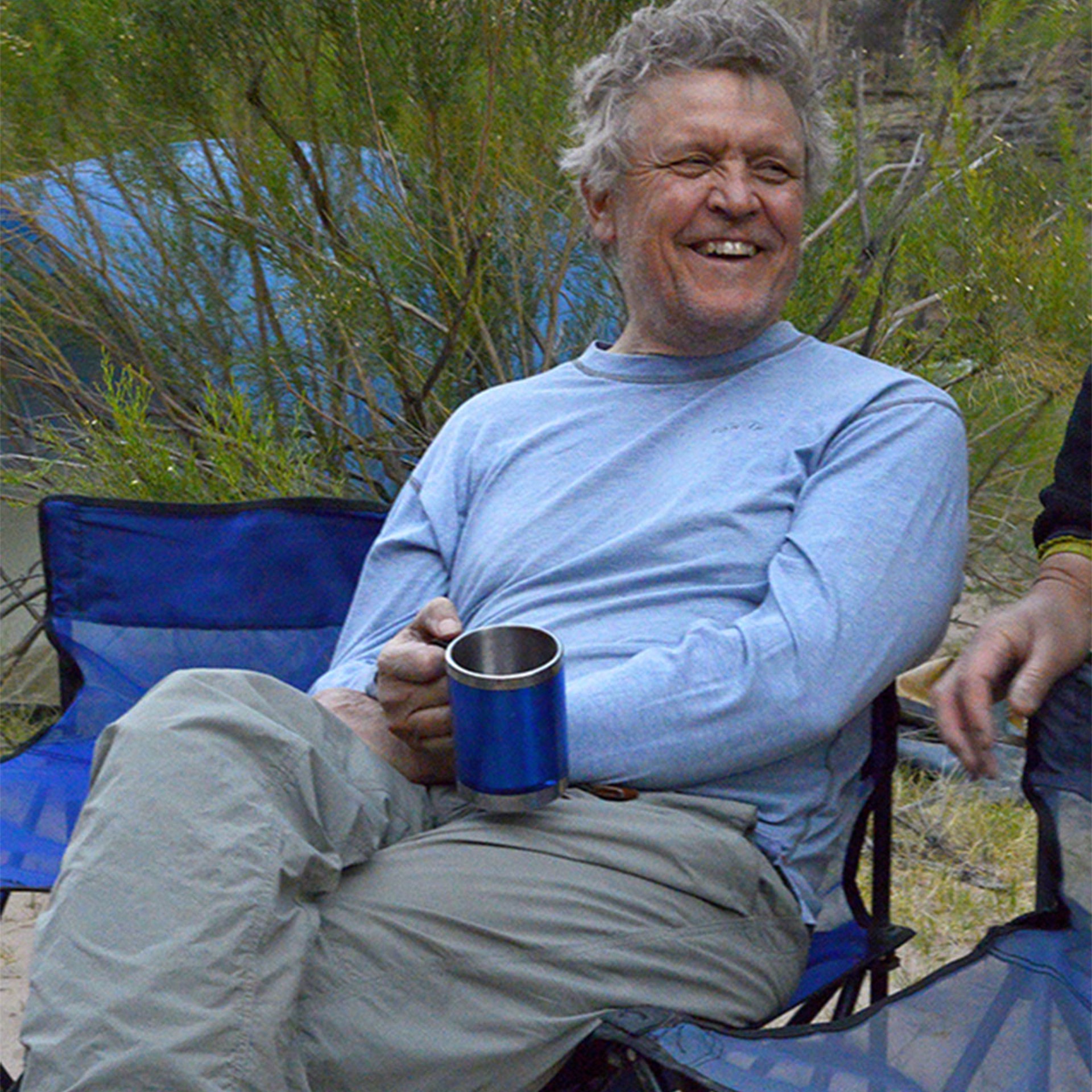 Richard Hagerty was born in 1950 in Durham, NC, at Duke University Hospital, the place for which he is nicknamed "Duke." He was raised in Charleston and studied at Porter-Gaud School. Hagerty's first serious exposure to art came in his youth, when he attended the salons of the museum and education pioneer, Laura Bragg, in her Charleston home. Bragg introduced Hagerty to the work of the famous Flemish artist, Hieronymous Bosch, and the self-taught genius, Henri Rousseau, whom he deeply admired.
Hagerty grew up with his future wife and "muse" Barbara, who joined him at Johns Hopkins University, where he received his undergraduate degree in 1973. The couple married that year, moved to Durham, and he started Duke University Medical School. They began a family, and lived in Atlanta during his residency training in plastic surgery at Emory University from 1977 to 1984. He returned to Charleston that summer and entered his father's practice, which evolved into his own.
While painting creative visions in the night hours, he and Barbara have raised a family of four children and now have one granddaughter. Hagerty has also been the focus of numerous solo and group exhibitions at such museums as The Gibbes, Albany, Burroughs-Chapin, and Bascom, and in numerous galleries in Charleston, Atlanta, New York City, Nantucket and elsewhere.
He has a special interest in cleft lip-and-palate surgery, and has traveled overseas regularly as a volunteer to train local surgeons in Haiti, Viet Nam, Cambodia, Peru and China. An ardent environmentalist, he is involved in land conservation in several capacities. Hagerty has been actively engaged in civic service, having served as a City Councilman from 1996 to 1999. He retired from his active private practice this year.
– Roberta Sokolitz
SELECTED SOLO EXHBITIONS
2019 Via Crucis, Mebkin Abbey, Charleston, SC
2018 Via Crucis, Narthex Gallery, New York, NY
2015 Charleston City Gallery, Charleston, SC
2003 Charleston City Gallery, Charleston, SC
1991 Gibbes Art Gallery, Charleston, SC
1990 Jan Goin Gallery, Charleston, SC
1988 Highland Gallery, Atlanta, GA
1984 Charleston City Gallery, Charleston, SC
1984 Jan Goin Gallery, Charleston, SC
1983 The Albany Museum of Art, Albany, GA
1982 The Stanley and Schenck Gallery, Atlanta, GA
1981 Kraskin/Mitchell Gallery, Atlanta, GA
1980 Kraskin Gallery, Atlanta, GA
1979 Kraskin Gallery, Atlanta, GA
SELECTED GROUP EXHIBITIONS
2018-Present Martin Gallery, Charleston, SC
2017-2018 American Visionary Art Museum, Baltimore, MD
2008-2016 Corrigan Gallery, Charleston, SC
2004 Walter Wickiser Gallery, New York, NY
2002 Tippy Stern Fine Art, Cool August MOON, Charleston, SC
2001 Tippy Stern Fine Art, Gallery Artists, Charleston, SC
2000 Tippy Stern Fine Art, Selected Works, Charleston, SC
2000 Tippy Stern Fine Art, In the Shadow of the Flag, Charleston, SC
1984 Arts Festival of Atlanta, Atlanta, GA
1984 Georgia Southern College, Two-Person Exhibition, Statesboro, GA
1984-82 The Piedmont Arts Festival, Atlanta, GA
1981 Callanwolde Fine Arts Center, Atlanta, GA
SELECTED PRIVATE COLLECTIONS
Mr. and Mrs. David Niemiec, New York, NY
Dr. Robert Allen, New Orleans, LA
Estate of Lee Atwater, Atlanta, GA
Mrs. Jane Bostwick, Atlanta, GA
Mr. and Mrs. Michael Brickman, Charleston, SC
Pat Conroy, Fripp Island, SC
Dr. Eugene Davidson, Atlanta, GA
Mr. and Mrs. James Ferguson, Charleston, SC
Mr. and Mrs. Jerry Finger, Houston, TX
Mr. and Mrs. Alan Goer, Charleston, SC
John E. Langdon, Fort Worth, TX
Peggy Lewis, New York, NY
Barclay and Jane McFaddon, Charleston, SC
Dr. Larry Mendelson, San Francisco, CA
Mr. and Mrs. Ben Mitchell, New York, NY
Dr. and Mrs. Andrew Moore, Lexington, KY
Dr. and Mrs. Grant Patton, Charleston, SC
Estate of Bruno Prouvost, France
Gary Ross, San Francisco, CA
Mr. and Mrs. William Seres, Charleston, SC
Anne Rivers Siddons, Charleston, SC
Douglas Young, Phoenix, AZ
Ellen C. Young, Phoenix AZ
Dr. Elliot Lessen, Charleston, SC
Dr. Ana Kausel and Ajay Balla, New York, NY
Read More